Skip to end of metadata
Go to start of metadata
If you have installed and enabled any real-time shipping modules, you will need to define your product's weight and package settings in order for the correct rates to be returned.
When using fixed product shipping, you can define the shipping cost for products individually.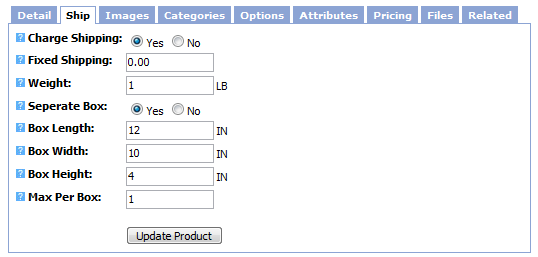 Charge Shipping: Charge shipping for this product.
Fixed Shipping:  Product shipping cost (Applicable only if Product Defined Shipping is enabled)
Weight: Product weight. Please note that these weights MUST be set to pounds if using US based carriers including, UPS, USPS, Fedex and DHL.
Separate Box: Use separate box to ship separate from any other products ordered in addition.
Max Per Box: Maximum amount of items (Of the same product) that will be packaged together in box when shipping.